CONGRATULATIONS to our Citizens of the Year (2020-2022) and to our V.K. Greer Leadership Award recipients.
THANK YOU for SUPPORTING the 21st Annual Community Wide Yard Sale and our 'Grouch' Sign Replacement!
Featuring...
Celebrations, Milestones, & Achievements Sponsor Appreciation
Get Noticed
Advertising & Sponsorship Opportunities
Our Surroundings
Discover our natural beauty Including our Designated Heritage Tree
Awards
Businesses, Leadership, & Citizen of the Year
Community & Tourism Information Centre
Discover the #CountryConvenience in #PortSydneyUtterson and see how easy it is to #ChooseChamberMembers when you're shopping or hiring!
The Brochure Bunkie outside our office is OPEN 24/7 and stocks Business, Community, and Tourism Information for your convenience. Now it's a 'SNAP' to 'PIC' up Business cards or our Member Directory list from the newly installed signage, or to help yourself to rack cards, pamphlets, magazines, maps, and our own 'Shop/Hire/Find/Choose Local' postcard (as shown below).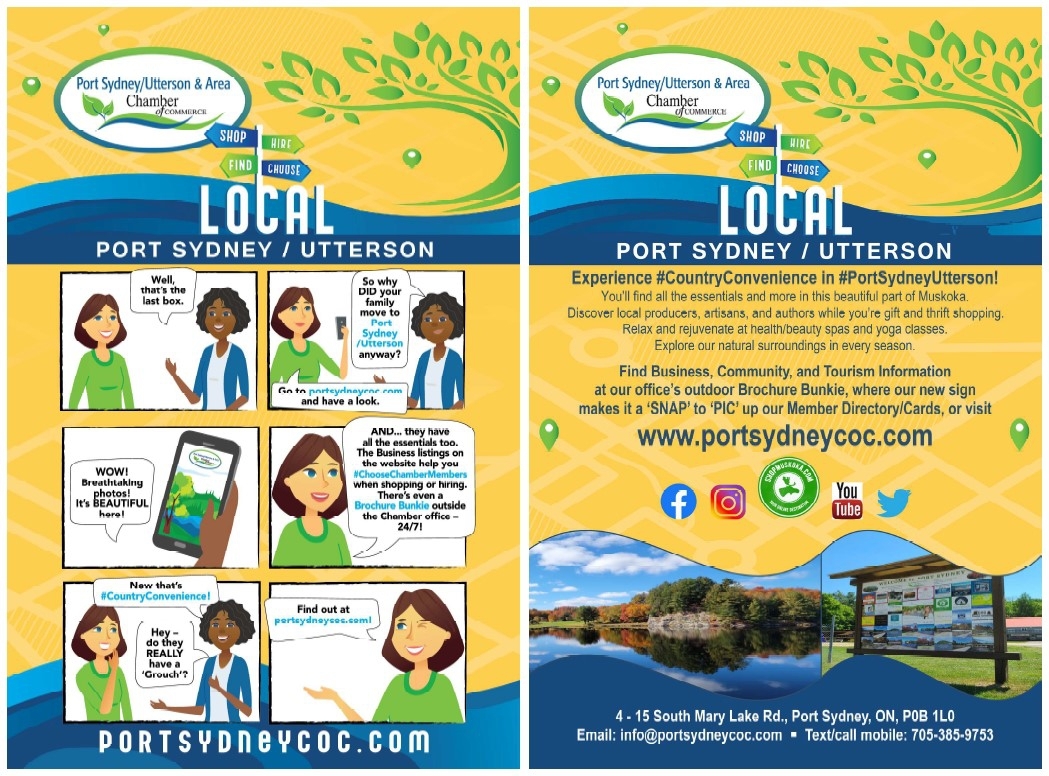 Check our Member Directory to find local businesses in these sectors:
Artisans / Assisted Living / Authors & Library / Brewing & Food Production / Camping & Recreation / Childcare / Construction & Trades / Funeral / Gas & Propane / Health & Beauty (Dental, Spas) / Media (Print, Digital, Graphics, Radio, Web Hosting) / Not-for-Profit / Photography / Professional Services (Business, Employment, Financial, Insurance, Legal) / Realty & Property Related Services (Appliance repair, Electrical, Equipment Rental, Excavating, Flooring, HVAC, Land Surveying, Landscaping, Plumbing, Septic, Snow Removal, Stump Grinding) / Recycling / Retail (Bulk food, Cannabis, Convenience, Consignment, Furniture, Grocery, Hardware, Pet Supply, Pharmacy, Wine) / Storage / Tourism & Hospitality (Golf, Museum, Resorts, Restaurants) / Transportation