Featuring...
---
This is our Chamber's space to honour Celebrations, Milestones, Special Events, and Achievements, as well as to express our appreciation to our Sponsors and Donors.
Here's what we're 'Featuring':
---
WELCOME to our NEW MEMBERS in 2022-2023
(click a Member to visit their Directory page)
---
June 1, 2023 – We launched our 2023 Port Sydney/Utterson rack card
to help people EXPLORE all that our Area has to offer, and we had it circulated to
over 200 tourist destinations from Barrie to Algonquin Park, Dorset to Parry Sound!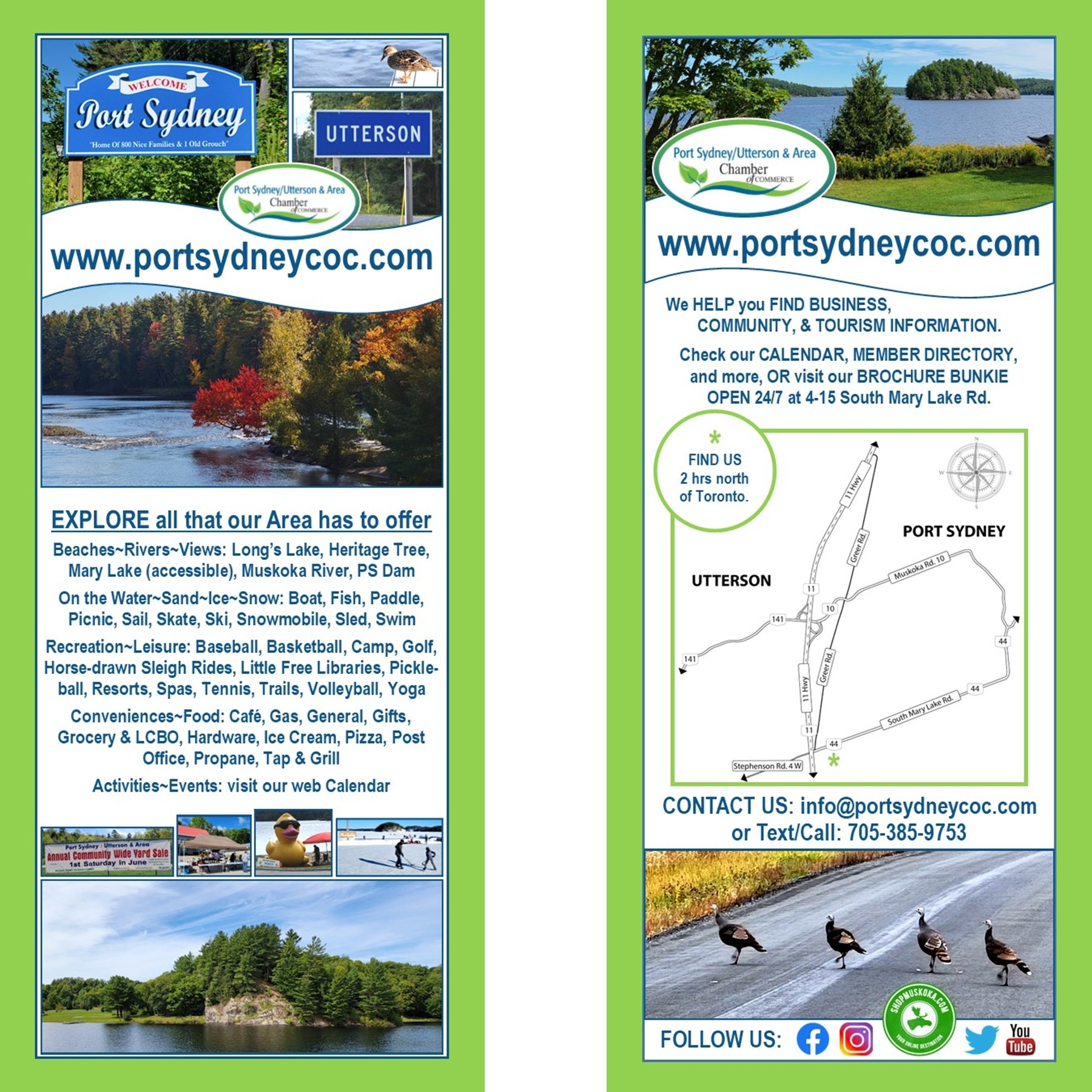 ---
June 2, 2023 – Thanks to our Map Ad SPONSORS, Registered Yard Sale Community Supporters,
and Yard Sale Shoppers who made our annual Community Wide Yard Sale a success!
---
December 5, 2022 – Our NEW ADS are in the 2022-2024 ACTIONlocal SHOPlocal Guides.
Copies are in our 24/7 Brochure Bunkie.

---
November 17, 2022 – Our dedicated and generous volunteers packed 29 Gift Boxes for
The Shoebox Project to support women in need in Muskoka!

---
October 25, 2022 – We had a great evening connecting with Members at our AGM!

---
September 14, 2022 – Our Chamber was Incorporated 41 years ago today!
Our Brochure Bunkie signs were recently updated to include business cards or logos
from every Member, as well as an updated Member Directory list.
We thank everyone who supports our Chamber and our Members.

---
August 13, 2022 – Congratulations to Dean Smales on his well-deserved Retirement!
Welcome new owners of Dean's Home Hardware: Kirk McLean, Bill Ecklund, and Chris Locke!

---
June 4, 2022 – THANK YOU to our 2022 Yard Sale Sponsors (see reverse side of Map) and to
everyone who supported our event this year through Registering your Yard/Trunk Sale and/or Buying a Map!
See more pictures on our Yard Sale page.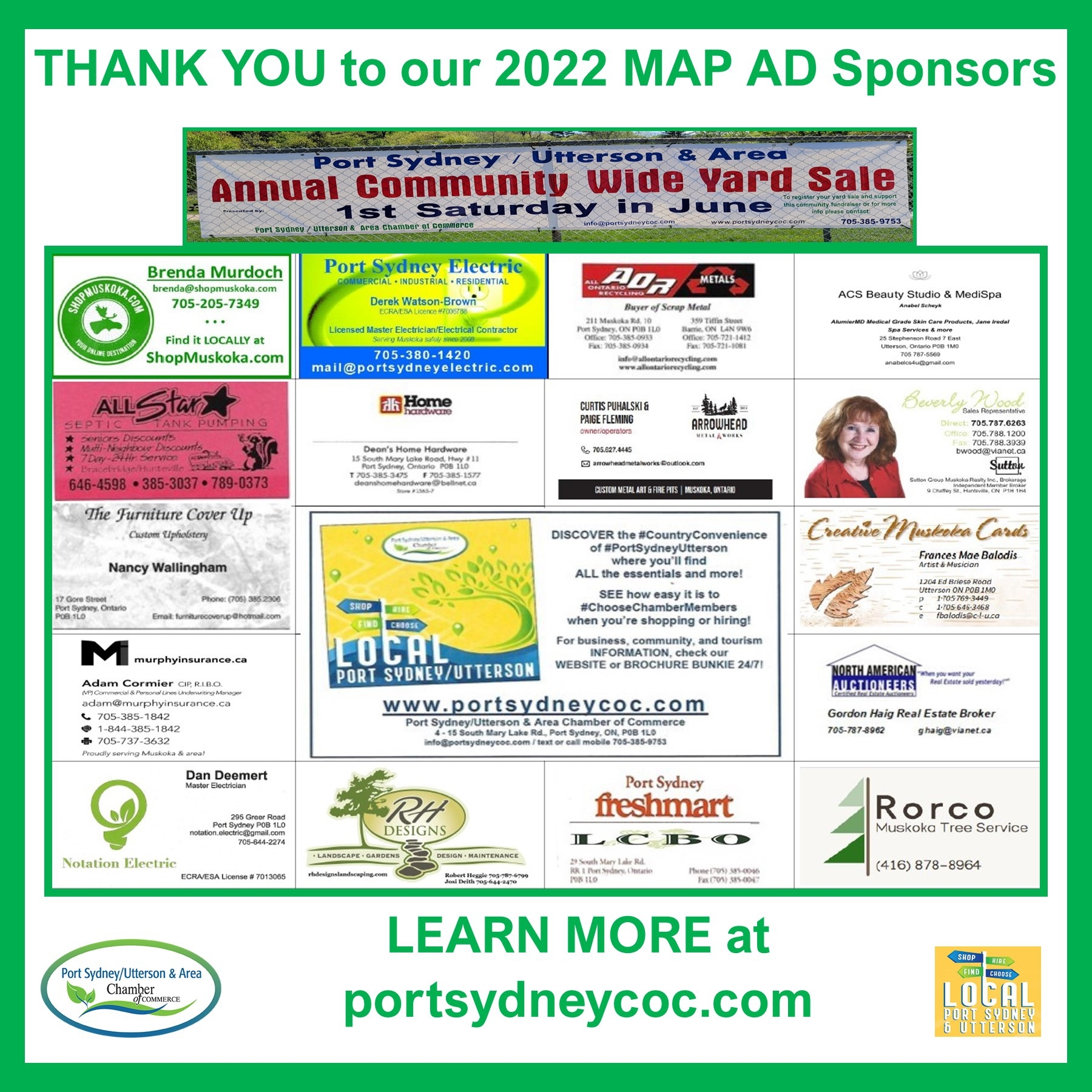 ---
May 31, 2022 – Our first two NEW village 'Grouch' signs have been installed!
Learn more on our The Grouch Fund page.

---
May 31, 2022 – Our Hall Sign has been fully updated for the 2022-2023 Advertising year now that the lower panel has been replaced!
Thank you to Sublime Graphics and SignCraft Canada for the print work!
---
May 20, 2022 – Congratulations to our Member Heather Huff-Bogart of The Green Bouquet Cannabis Inc. who celebrated the 1st Anniversary of her store opening!
---
March 4, 2022 – Our new postcard reminds people of how much we have to offer in our beautiful part of Muskoka! If you didn't receive yours in the mail (P0B 1L0/1M0) you can pick one up from our Brochure Bunkie outside the office 24/7. Thank you to everyone who supports local businesses!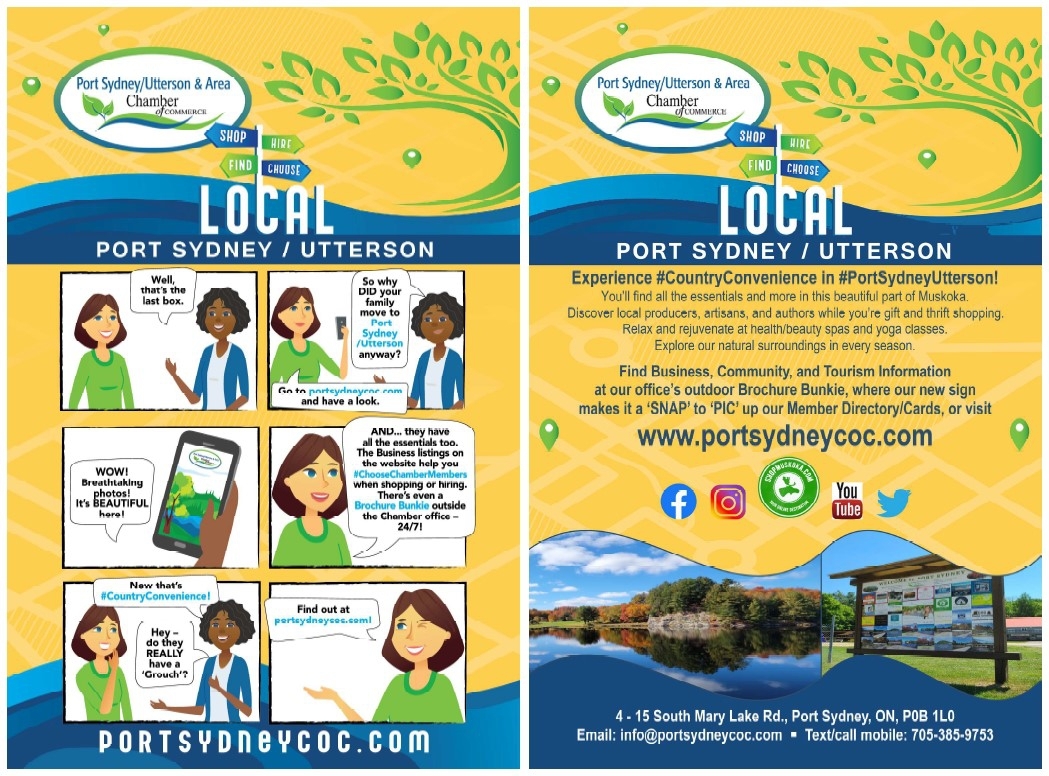 ---
March 3, 2022 – Kudos to Member Bonnie Boyd of Port Sydney Daycare for initiating an inclusion program in which children help to ensure that Beresford bear's hearing aids are turned on so that nobody is left out at story time. Read More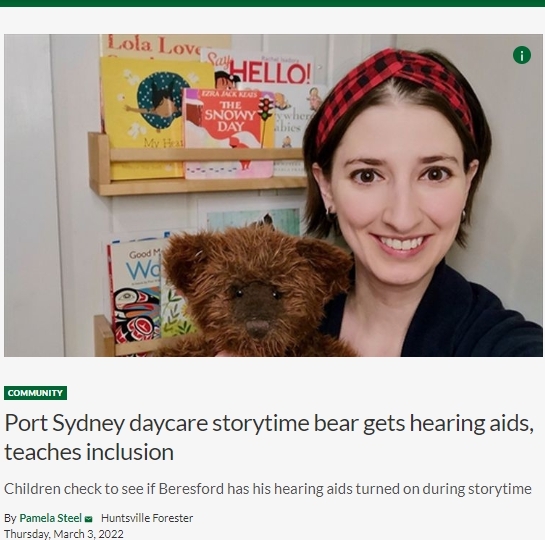 ---
February 1-14, 2022 – 'SHOW your LOVE for LOCAL!' HEY Port Sydney/Utterson! We received 50 recommendations for your favourite local Businesses, Activities, and Scenic Views during our Feb 1-14 'SHOW your LOVE for LOCAL' Draw event. We're congratulating our WINNERS: Deidre, Lane, Kat, Sarah, Kristine, and Daryl! Please join us in thanking our Prize Sponsors: Dean's Home Hardware, Four Season Greens, Jamieson's General Store, Port Sydney Electric, and The Wild Heart! We hope everyone continues to #ShopLocal in #PortSydneyUtterson and enjoy our #CountryConvenience!