Scroll down for Community & Tourism Information
Summer 2023:

LEARN MORE

about our Hwy 11 BILLBOARD ADVERTISING Space!
Featuring...
Celebrations, Milestones, & Achievements Sponsor Appreciation
Get Noticed
Advertising & Sponsorship Opportunities
Our Surroundings
Discover our natural beauty Including our Designated Heritage Tree
Awards
Businesses, Leadership, & Citizen of the Year
Community & Tourism Information Centre
Experience #CountryConvenience in #PortSydneyUtterson and see how easy it is to #ChooseChamberMembers when you're shopping or hiring!
The Brochure Bunkie outside our office is OPEN 24/7 and stocks Business, Community, and Tourism Information. Help yourself to rack cards, pamphlets, magazines, maps, and our own 'Shop/Hire/Find/Choose Local Port Sydney/Utterson' postcard (as seen below). Be sure to 'snap' a 'pic' of our MEMBER Directory and Card sign (updated Sept/2022) before you go so you can always #shoplocal. See our NEW MEMBERS listed on our website's Featuring... page.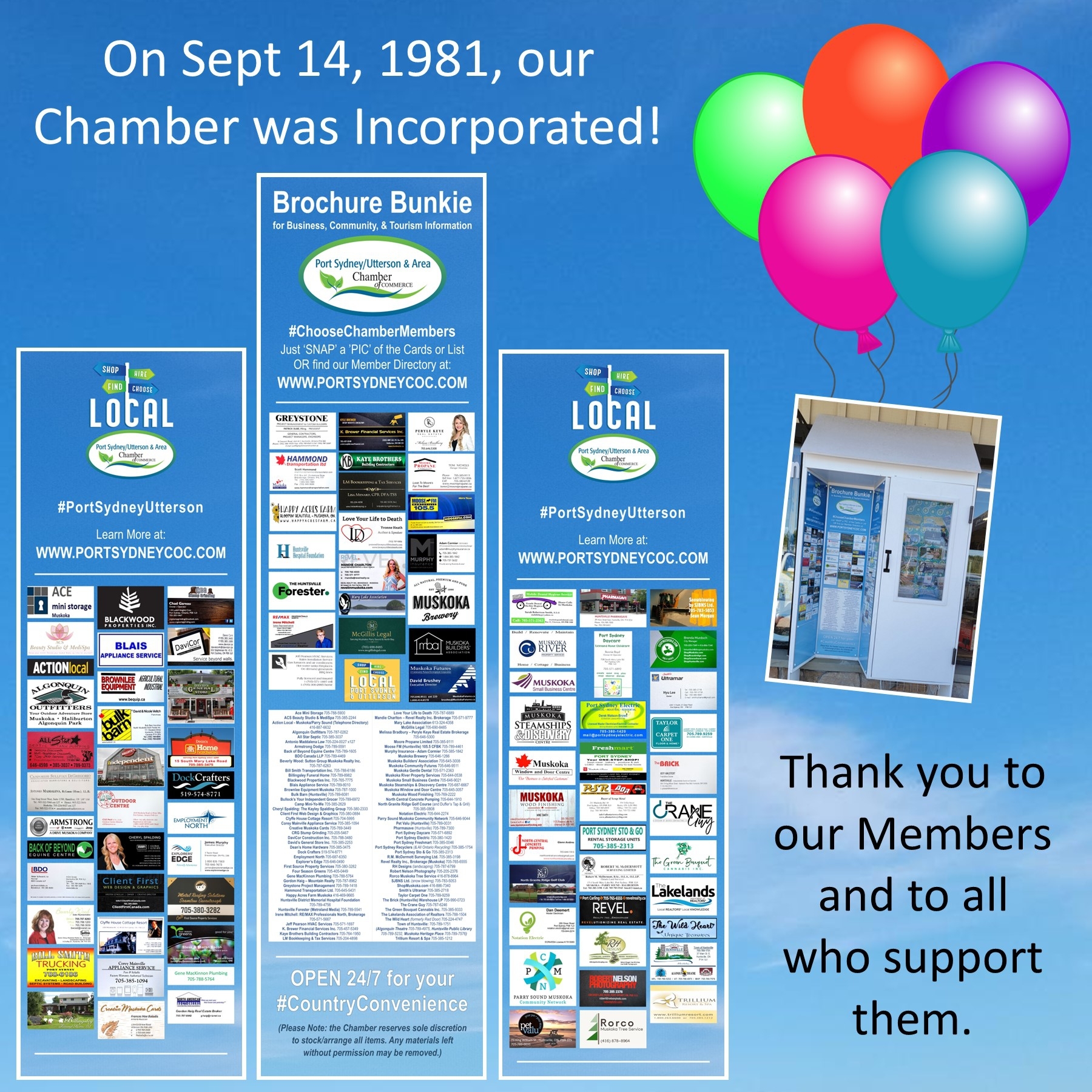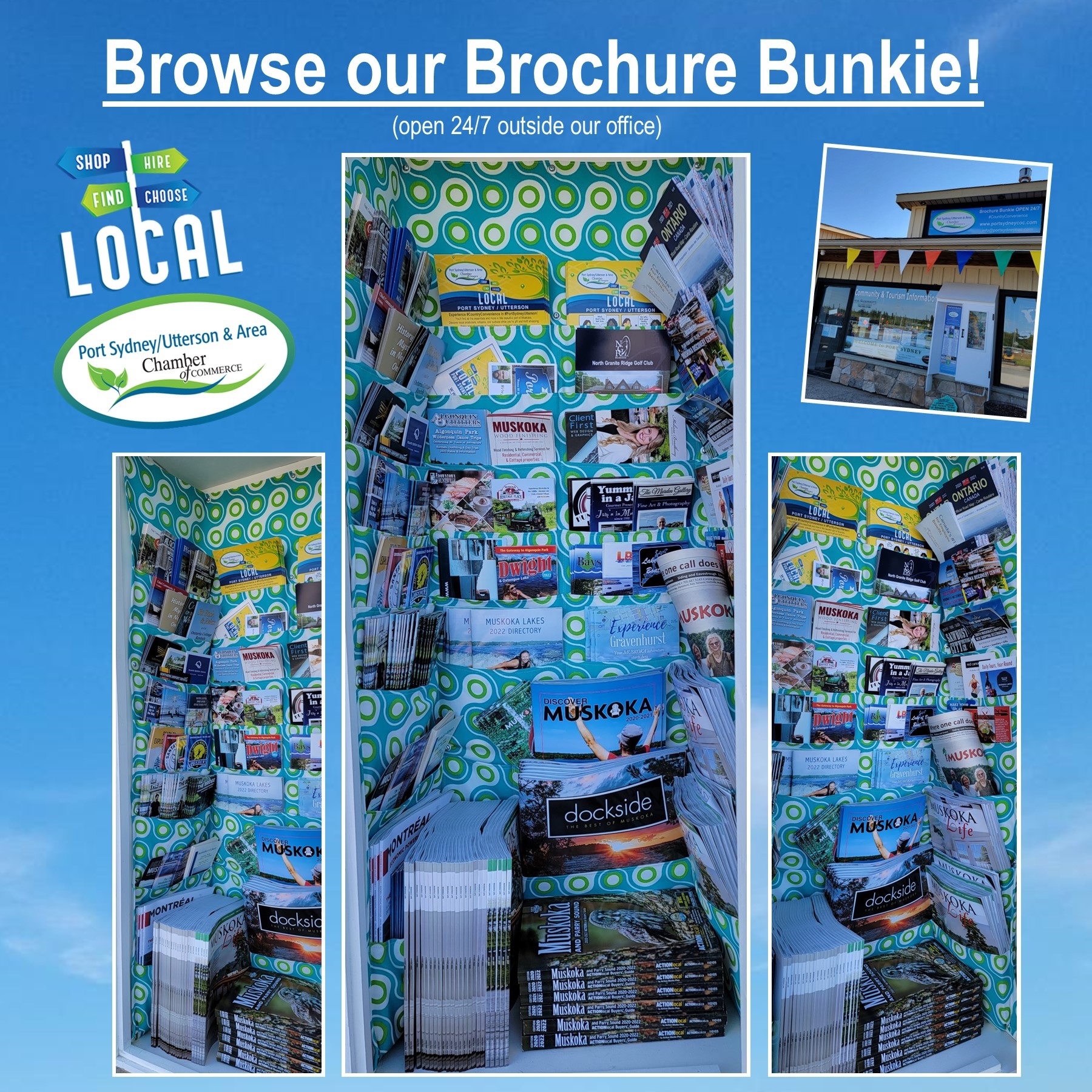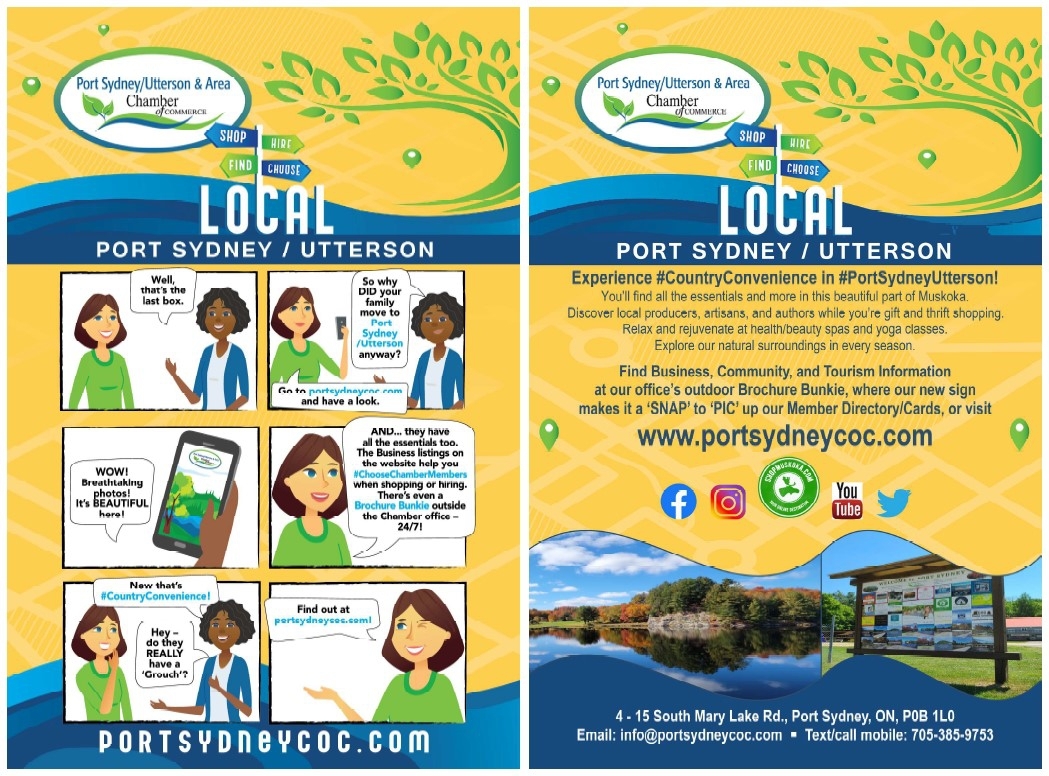 Check our Member Directory to find local businesses in these sectors:
Artisans / Automotive / Camping & Recreation / Childcare / Construction & Trades (also see Property Related Services) / Flowers / Food Production / Funeral / Gas & Propane / Health & Beauty (Dental, Hospital Foundation, Spas) / Library / Media (Print, Digital, Graphics, Radio, Web Hosting) / Not-for-Profit / Photography / Professional Services (Business, Employment, Financial, Insurance, Legal) / Realty & Property Related Services (Appliance repair, Concrete Pumping, Electrical, Equipment Rental, Excavating, Flooring, HVAC, Land Surveying, Landscaping, Property Management, Plumbing, Roofing, Septic, Snow Removal, Storage, Stump Grinding, Tree Service, Wood Finishing) / Recycling / Retail (Bulk food, Cannabis, Consignment, Convenience, Furniture, Gifts, Grocery, Hardware, Pet Supply, Pharmacy, Recreation) / Tourism & Hospitality (Golf, Museum, Resorts, Restaurants, Steamships, Theatre) / Transportation