Welcome! We are a membership organization striving to promote and support our Business Members, while providing Business, Community, and Tourism Information to the public.
To learn more, scroll and surf through our site, or visit our 24/7 Brochure Bunkie.
(Please Note: we do not maintain or control any facilities or roads, so please contact the Town of Huntsville for these queries.)

Featuring...
Celebrations, Milestones, & Achievements Sponsor Appreciation
Get Noticed
Advertising & Sponsorship Opportunities
Our Surroundings
Discover our natural beauty Including our Designated Heritage Tree
Awards
Businesses, Leadership, & Citizen of the Year
Community & Tourism Information Centre
Experience #CountryConvenience in #PortSydneyUtterson and see how easy it is to #ChooseChamberMembers when you're shopping or hiring!
The Brochure Bunkie outside our office is OPEN 24/7 and stocks Business, Community, and Tourism Information. Help yourself to rack cards, pamphlets, magazines, maps, and our own 'Shop/Hire/Find/Choose Local Port Sydney/Utterson' postcard (as seen below). Be sure to 'snap' a 'pic' of our MEMBER Directory and Card sign (updated Sept/2022) before you go so you can always #shoplocal. See our NEW MEMBERS listed on our website's Featuring... page.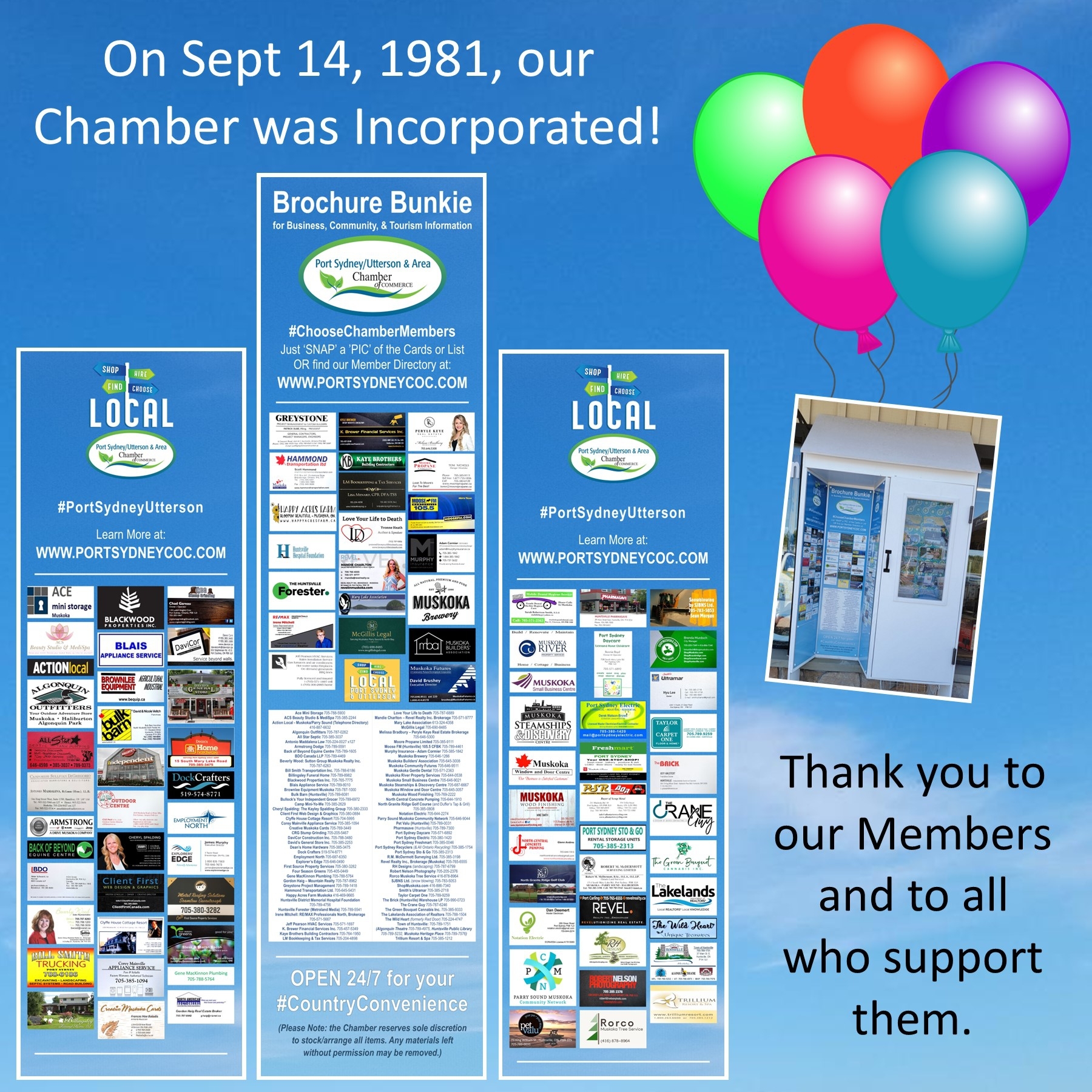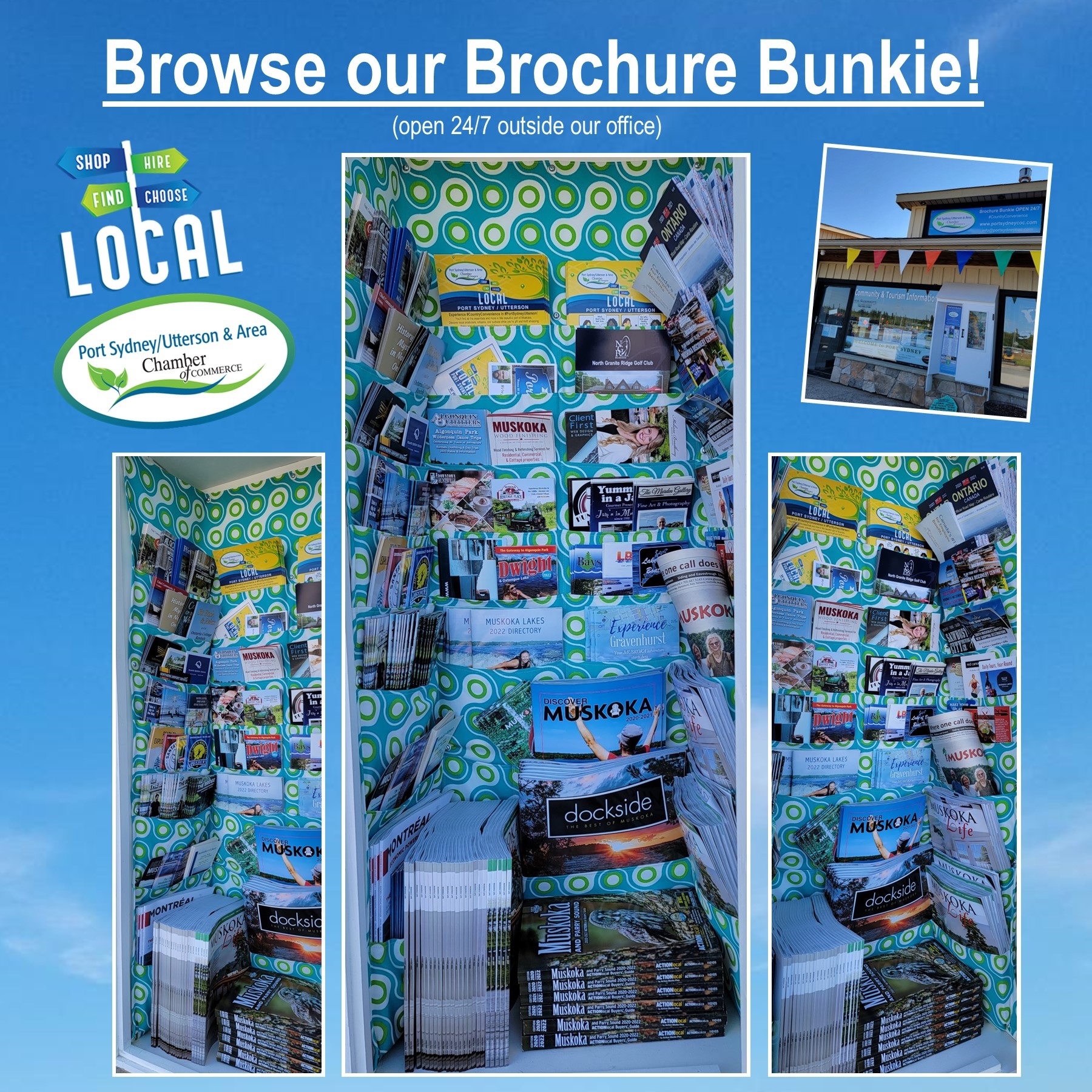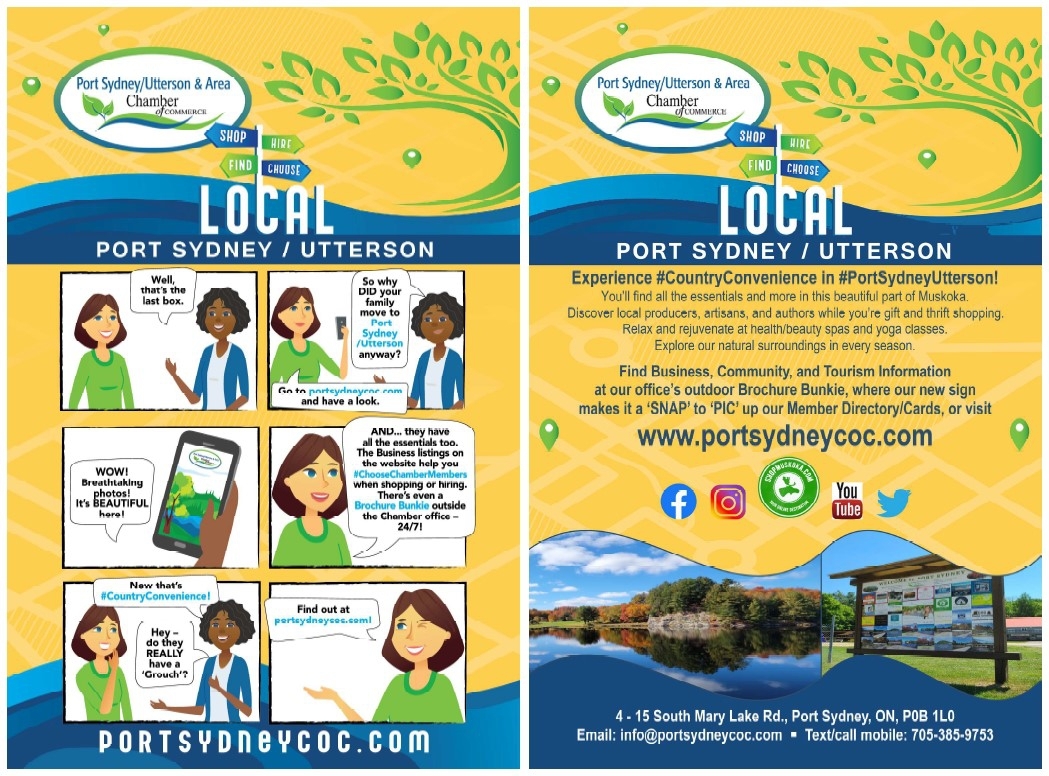 Check our Member Directory to find local businesses in these sectors:
Artisans / Automotive / Camping & Recreation / Childcare / Construction & Trades (also see Property Related Services) / Flowers / Food Production / Funeral / Gas & Propane / Health & Beauty (Dental, Hospital Foundation, Spas) / Library / Media (Print, Digital, Graphics, Radio, Web Hosting) / Not-for-Profit / Photography / Professional Services (Business, Employment, Financial, Insurance, Legal) / Realty & Property Related Services (Appliance repair, Concrete Pumping, Electrical, Equipment Rental, Excavating, Flooring, HVAC, Land Surveying, Landscaping, Property Management, Plumbing, Roofing, Septic, Snow Removal, Storage, Stump Grinding, Tree Service, Wood Finishing) / Recycling / Retail (Bulk food, Cannabis, Consignment, Convenience, Furniture, Gifts, Grocery, Hardware, Pet Supply, Pharmacy, Recreation) / Tourism & Hospitality (Golf, Museum, Resorts, Restaurants, Steamships, Theatre) / Transportation