Jan/2022 – A NOTE re: Rapid Antigen Test kits
Our Chamber does NOT distribute these kits, but small/medium sized businesses can check our FAQs page to learn how to order them for employee use.
Featuring...
Celebrations, Milestones, & Achievements Sponsor Appreciation
Get Noticed
Advertising & Sponsorship Opportunities
Our Surroundings
Discover our natural beauty Including our Designated Heritage Tree
Awards
Businesses, Leadership, & Citizen of the Year
Community & Tourism Information Centre
DISCOVER the #CountryConvenience of #PortSydneyUtterson where you'll find ALL the essentials & more!
We're showing the Love for Local businesses and you can too!
See how easy it is to #ChooseChamberMembers when you're shopping or hiring! (scroll down for sector list)
For business, community, and tourism information, check our website or Brochure Bunkie 24/7!
OCT 2021 – JAN 2022: We're excited about our 'Shop/Hire/Find/Choose Local' campaign to promote our Members and the businesses of the Port Sydney/Utterson Area! Here are some ways that everyone can learn more and spread the word:
CATCH our on-air, digital, print, and social media Ads on: Country 102, Moose FM 105.5, Hunter's Bay Radio, Huntsville Doppler, Muskoka Region, Twitter, Instagram, Facebook, and YouTube between now and the end of January 2022.

FOLLOW / LIKE / SHARE posts on social media.

WATCH for new Chamber information in your mailbox and in the Brochure Bunkie.
SPECIAL THANKS to: Dean's Home Hardware for allowing us to install the Brochure Bunkie; Client First Web Design & Graphics for creating our campaign graphics; Sublime Graphics for printing our new signage; ShopMuskoka.com, Port Sydney Parks & Recreation Group, and everyone who is helping us to amplify our campaign. Your support of our Members, as well as ALL local businesses, is greatly appreciated!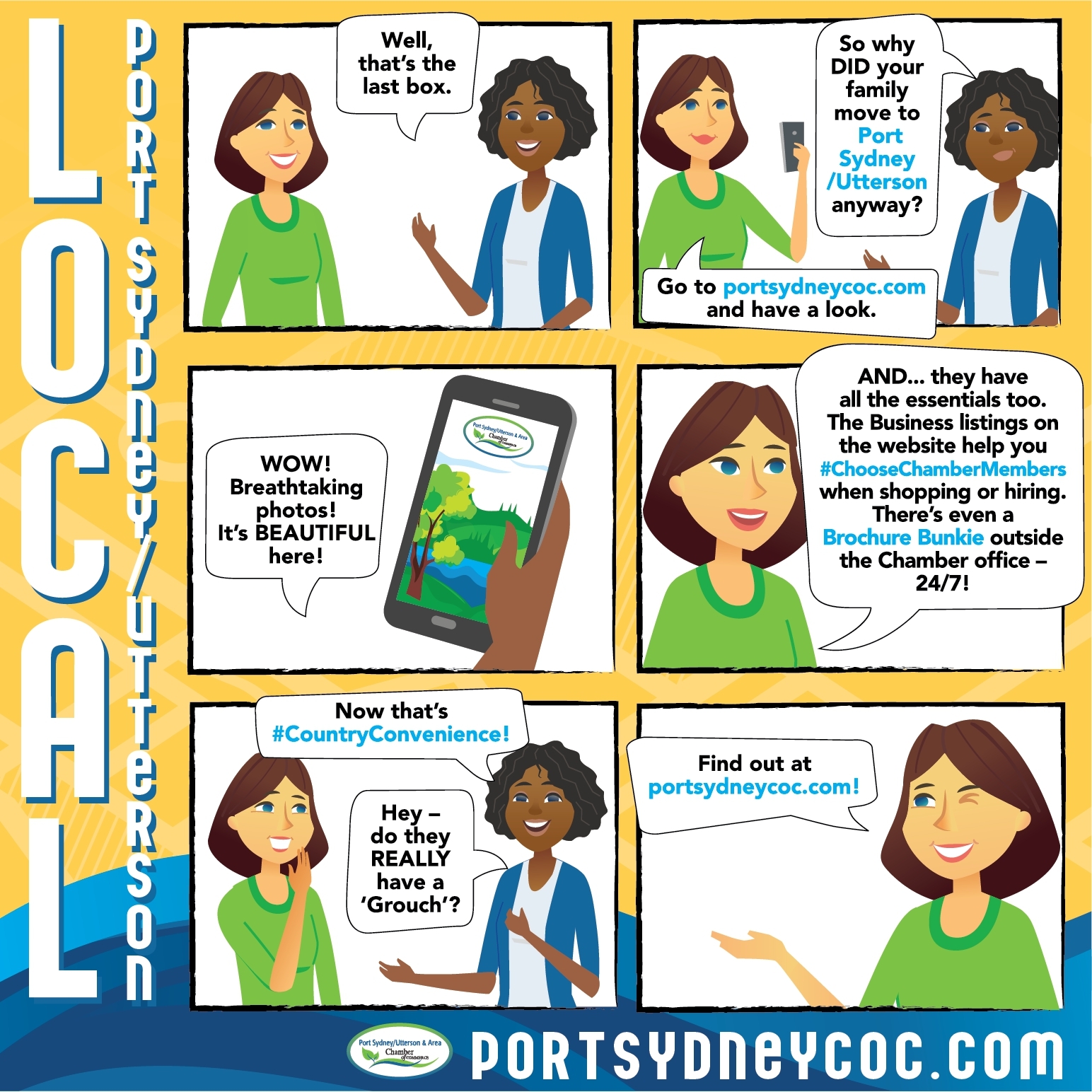 Check our Member Directory to find local businesses in these sectors:
Artisans / Assisted Living / Authors & Library / Brewing & Food Production / Camping & Recreation / Childcare / Construction & Trades / Funeral / Gas & Propane / Health & Beauty (Dental, Spas) / Media (Print, Digital, Graphics, Radio, Web Hosting) / Not-for-Profit / Photography / Professional Services (Business, Employment, Financial, Insurance, Legal) / Realty & Property Related Services (Appliance repair, Electrical, Equipment Rental, Excavating, Flooring, HVAC, Land Surveying, Landscaping, Plumbing, Septic, Snow Removal, Stump Grinding) / Recycling / Retail (Bulk food, Cannabis, Convenience, Consignment, Furniture, Grocery, Hardware, Pet Supply, Pharmacy, Wine) / Storage / Tourism & Hospitality (Golf, Museum, Resorts, Restaurants) / Transportation